CIRCE WORKSHOP FUNCTIONAL JUGGLING
CIRQUEON – Prague, Czech Republic, September 17-21 2018
Tutors: Craig Quat (Quat Props), Adam Jarchovský a Katka Klusáková (CIRQUEON)
CIRQUEON hosts a training for circus tutors and social workers focusing on adapting juggling and
other circus props for people with physical disabilities.
The concept follows the theories, practice, and facilitation methods of juggling t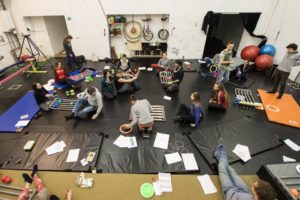 heorist, Craig Quat.
Functional Juggling is the terminology used to describe juggling like activity that is intentionally
designed to develop and promote health benefits, rather than skill level. In this approach juggling
skills are developed and can be the main focus, but the key factor of Functional Juggling is that it
serves a function or purpose beyond that of juggling alone.
Also, the workshop is a continuation of previous cooperation between CIRQUEON and Jedličkův
ústav a školy (Jedle) – Prague ́s school for Children and Young People with Physical Disabilities
which started three years ago within Educircation network. To learn more about the first workshop
please read attached study "Circus in Jedle" written by Adam Jarchovský that was published by
CIRQUEON in 2016. 
The workshop explores some of the cultural misunderstandings of juggling and uses science to
identify truths in the message, meaning, and nature of juggling. By redefining the activity, we can
create and express more freely with juggling and be able to welcome more diverse groups of
people into our juggling community. Quat Props has achieved this goal and much more. Topics of
theory for the workshop include, – Introduction and background on the developing works of Craig
Quat and pioneering new field of Functional Juggling. – Identification and redefining of what it
means to juggle. The separation of Expression from Experience. – Improving the accessibility of
juggling through redesign of traditional learning model. Craig Quat's method of 5-step juggling.
Linear vs. None-Linear approaches. – Formulated findings of Quat Props theory of cognitive process
formations of juggling. Quantifiable and programmable theory that applies to 
categorised structure
of all potential motor sequences that induce juggling like state of
activity in the mind. – Demonstration, modelling, and practice of none-
verbal facilitation methodologies with the Juggle Board.
The ability to fully transform juggling activity into any form of desired
expression, makes it highly compatible for therapeutic adaptation and
this workshop empowers you to share the skills and knowledge needed
to do so. Anyone working in education or healthcare services is
welcome and invited to attend. Presentation of material focuses
around juggling, but intended to be cross-disciplinary in practice. Juggling serves as the model for
explaining and understanding how to look at obstacles and turn them into opportunities. Quat
Props shares with you best tips and tricks for celebrating the differences in every person through
juggling.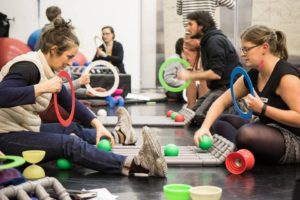 After introduction of Fuctional Juggling to the workshop participants, they will be encouraged to
come up with their own new ideas in building props for the other participating group – students of
Jedličkův ústav a školy, Prague ́s School for Children and Young People with Physical  Disabilities.
The circus tutors and social workers will divide their daily working time between practical teaching
in Jedličkův ústav a školy, building props in a wood workshop in Vrané nad Vltavou (30 minutes by
train from Prague) and discussions on the concept of Functional Juggling and its possible use in
their home countries in the circus school (CIRQUEON).
DAILY PROGRAMME
Please understand, that the programme doesn ́t say specific timing, it will be affected by many
factors such as how long time will we need in the workshop, if we need time to discuss things and
also on how the classes in the school goes. In general we want to dedicate part of each day to
practical teaching, discussions and building props in the wood workshop.
MONDAY 17TH SEPTEMBER
INTRODUCTION TO CIRQUEON AND ITS ACTIVITIES
INTRODUCTION TO FUNCTIONAL JUGGLING
VISIT TO JEDLE
BRAINSTORMING
TUESDAY 18TH SEPTEMBER
CIRCUS LESSON WITH STUDENTS OF JEDLE
BUILDING PROPS IN TE WOOD WORKSHOP
EVALUATION OF THE DAY