Balancing Berlin #CIRCE 
2.- 6. July at Cabuwazi Kreuzberg
During these five days we will focus on different disciplines concerning balancing. Two trainers will give perspectives and methods to train and teach handstand. We will learn and learn how to teach globe walking and rolabola. One day we will focus on thightwire.
Participants
These week is open for all evel. If you come please let us know your level in these four disciplines. So we can adapt your schedule and you can sweat too!
Location
It will happen at Cabuwazi Kreuzberg, Wienerstraße 59H.
Evening
We will have one meet and greet with other cabuwazis. We will provide some recommendations what to do in the evening (training places, shows, etc.)
At 1st of July in the afternoon will be the summer celebration of Cabuwazi Kreuzberg. Some children will also perform. It is open for everybody.
Profil of the group
Number of participants: 16
Technical level of participants: Any level is appreciated.
Learning process
The teaching methodology is by experimental learning and group discussions.
Experimental learning means learning by doing, so learners participate in a class where they will actively learn what to do with their students, and thus understand how they can teach it to their students in the future.
The discussions with the teachers serve to clear further questions about the applied methods and help to absorb the experience at a conscious level.
Other types of discussions will be realized with the participants on the last day, which serves to help digest what they learnt during the week. There will be an exchange of ideas in how others can put them in to practice. This discussion will be moderated but not led, as its objective is to realize how to work autonomously using the new methods of teaching.
Workshops
The goal of all the different workshops over the five days of learning is to learn how to balance and how to teach balance. Furthermore we will have time to exchange and reflect on experience in every circus and country. We will have four different teachers covering 4 different aspects of balance. Two handstand teachers show their approach to handstand. One teachers covers rola-bola and globe walking. The sessions, except handstand, are not linked.
Handstand
Marta and Krischan start from the very basics and increase the difficulty. They will focus how to train to be thight, how to train it by yourself and also how to make a small routine with handstands – even if you are at a beginner level. They can adapt to needs for press handstands and dynamic routines. Marta will start with an ABC of handstands and a session of her experience as teacher. The following days Krischan continues the sessions and adds his experience in acrobatics and presenting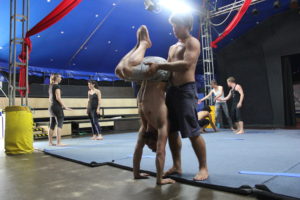 Marta Witecka
Marta has always been passionate about movement and its interesting forms. She is a law graduate but the legal path has never felt as exciting as her greatest passions – yoga, handstands and acroyoga. She is practicing handstand for 6 years and it became her great passion from the moment she put her body upside down. She practices partner acrobatics and yoga and loves to include handstands in both of them. She is interested both in learning for herself and teaching, when she can share with others what she knows about this beautiful practice.
Krischan Meder
After discovering artistic street performing in New Zealand, Krischan attended the "Etage – School for the Performing Arts" in Berlin and graduated in 2006 as a state-certified stage artist in acrobatics and contact juggling. He performed at many city festivals, gala- and variety-stages as a contact juggler, partner acrobat and fire artist. Through his teaching activities in various children's circus projects, he became an acrobatics teacher at the Circus Academy Berlin in 2015, where he has been teaching aspiring circus teachers ever since.
Thightwire
During this one day you will learn how to talk on a wire, do tricks, and explore different heights.
Sarah Lindermayer
Sarah graduated the Staatliche Artistenschule Berlin (State Circus School Berlin) in 2011 with the first discipline thightwire. Her background is also in youth circus. Ever since, she is touring through national theaters like the GOP-Variety theater. She also worked internationally in countries like Spain, Morocco and the Caribbean.
Globe walking & rola bola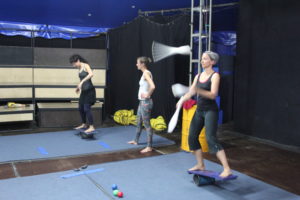 Flo will start from the very basic, increase to more difficult level and will create a small routine at the end with globes or/and rola-bola. He will uses different stations to learn to balance the globe or the rola-bola. He learned it as an adult and trains children and can over insights in the learning and teaching process.
Flo Bögner graduated, freshly, from the circus academy in berlin and teaches social and youth circus at cabuwazi. So he knows how it is to freshly start into circus teaching. He also coordinates for cabuwazi the educircation network. His background is in juggling and capoeira. As an autodidact he loves the process of learning.
Other professional programmes during the week
2nd of July, Monday: In the evening is an open training, no guidance, at the Cabuwazi Kreuzberg. It goes from 7:30pm until 9pm.
3rd and 5th of July, Tuesday and Thursday, 7pm till 9pm  from is an guided acrobatics and acrobatic dance training at Cabuwazi Tempelhof. The tents are located on a former airport field.
4th of July, Wednesday: We will have a barbecue at Cabuwazi Kreuzberg and other people from Cabuwazi are invited.