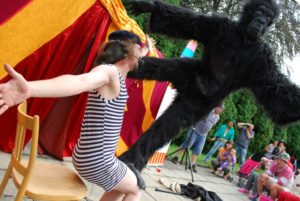 Social circus workshop will take place in Prague between 21st and 25th November.
In social circus you can work with minorities, disabled, children from complicated family background etc. We decided to concentrate on psychiatric patients. The November workshop will take place in Psychiatric Hospital Bohnice – Czech biggest hospital for people with psychiatric problems.
Our tutors will be people from Ledovec o.s. a non-profit organisation from a little village Ledce near Plzeň. Ledovec (meaning "an iceberg") has experience with circus therapy, two years ago, they started a project "CIRKUS PACIENTO" in which they come to psychiatric hospitals and prepare a circus performance with patients.
This workshop will be special edition of CIRKUS PACIENTO. Special because we will have circus teachers from our foreig partner organisation – 3 from each, 2 Czech teachers and Ledovec team. We will have to deal with language barrier and also with group coordination, as there will be five times more teachers than usually.
To see if we were successful you can come to DIVADLO ZA PLOTEM in Psychiatric Hospital Bohnice, Ústavní 91, Praha 8 on Thursday 24th November at 2 PM to see the final performance.
If you prefer to talk about circus as a therapy you are most welcome on the same place on Wednesday 23rd November at 4 PM.
Wish us luck!
If you have any questions don´t hesitate to contact Barbora Adolfová from Cirqueon on bara@cirqueon.cz or +420 608 957 317.