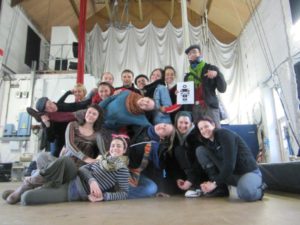 Aerial acrobatics – Bristol – March 2012
For the Educircation project, the Invisible Circus will be hosting a series of workshops in Bristol, a city known for having the highest number of circus performers in the U.K.
The workshops will focus on aerial teaching methods and rigging safety and will be taught by Samuel Jornot, the artistic director for ACAPA (Academy For Circus and Performance Art based in Tilburg, Netherlands).
The workshops will take place in March 2012 at The Island which is managed by ArtspacelifeSpace a not for profit workers cooperative which turns abandoned spaces into artistic resources, providing creative solutions for problem properties.