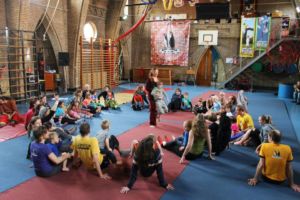 Workshop focused on circomotoriek – circus games for children and their parents. April 2014, Leuven, Belgium.
For the Belgium workshops we will be working on the importance of physical contact in our circuswork.
This in three different forms :
Circomotoriek( parents and kids relationship games, acrobatics and having fun together)
Acro yoga with 2 specialist from circus Minimus New York
Contact improvisation
The dates are : Start 31 of March till  4 th of April with possibility to stay in the weekend of 5 and 6 April.
Detailed program can be found in attached pdf: